Available for:
Corporate Functions
Television Promotions
Night Club Openings
Bachelorette Parties
Wedding Receptions
Bar/Bat Mitzvahs
Birthday Parties
Fund Raisers
Singing Telegrams
Seasonal Occasions- New Years,
Valentine's Day,
4th of July,
Halloween,
Hanukah, Christmas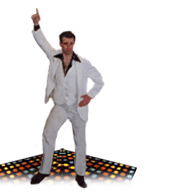 Call 917-589-9099
Book your
unforgettable
event with
Brian Travolta
or email Brian
See Brian on MySpace
Recent News ...
Brian Travolta is always active. See below for current and pending Projects & Events.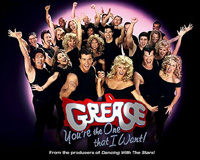 BRIAN IS THE ONE THAT YOU WANT
Brian is back on reality TV again! This time on "GREASE: YOU'RE THE ONE THAT I WANT" on NBC. This series is a contest to find a new Danny & Sandy for a Broadway revival of GREASE, opening June 2007. There was an open call in several cities, and Brian attended the one in New York. Hundreds waited in line for hours, but Brian made the most of his time. While most guys wore the traditional black leather jacket and jeans, Brian was the only one to wear the alternative Travolta look-- the white leisure suit from SATURDAY NIGHT FEVER. He was a big hit with the NBC camera crew. See how Brian did on Sunday, January 7, 2007.
BRIAN A KEPT MAN?
Brian broke into Reality TV as a Contestant on the VH1's "Kept" with former model JERRY HALL. Ms. Hall is perhaps best known for being MICK JAGGER's ex-wife. The show recruited 12 American men in their 20s and 30s to fly to London to compete for Ms. Hall's approval. The contestants ranged from models to actors, and Brian was selected for his Jagger impersonations!
BRIAN SELECTED FOR VARIETY SHOW
Brian participated in the annual "Exchange Club" Fund-Raiser in Connecticut. He and four other impersonators from around the country were selected to put on a variety show to raise money for child abuse prevention. It was organized by Anne Kissel, who impersonates Roseanne Barr and was a semi-finalist on "The Next Best Thing" on ABC. All the performers were well received, and Brian got to go on twice!

Viewing the poster for the event requires Adobe Acrobat Reader. It is in PDF format.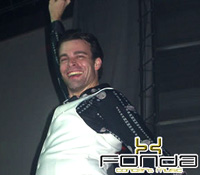 BRIAN TRAVOLTA GOES INTERNATIONAL
Brian Travolta finally went International with a perfomance in MEXICO. He appeared with the Bee Gees tribute band STAYIN' ALIVE in the city of Monterrey. They packed La Fonda Concert Hall even if many in the crowd didn't know the lyrics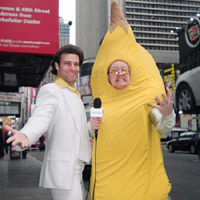 IS BRIAN SIRIUS?
Brian Travolta appeared on-air with his old friend (and stand-up comic) "CC Banana" on SIRIUS Satellite Radio. Mr. Banana was scheduled to be interviewed for the network's Comedy channel, "Raw Dog" 147, and he invited Brian along as a sidekick. Both performers did some impromptu shtick on the talkshow "Getting Late" then got a tour of the station. Brian Travolta & CC Banana looked so outrageous that on-air personality, JIM BREUER (formerly of "Saturday Night Live"), waved them in to conduct yet another interview!
BRIAN AN APPRENTICE?
Brian had a cameo on NBC's "The Apprentice" (Season 3, Episode #3). He was hired by one of the teams (Magna) to help promote Nescafe Coffee-- as a walking/talking coffee cup-- and went by the name
COFFEE-MAN! Read the episode recap.
STAND-IN FOR THE STARS
When Brian is not wearing his leisure suit, he works on high-profile Films & TV shows in New York. Though he hasn't had his Close-Up yet, Brian is often recruited to "stand-in" for stars of similar physical stature. He has stood-in for the shows "Law & Order" and "Sex And The City" and for such actors as Macaulay Culkin, Tobey Maguire, and the legendary Al Pacino. Brian's most recent assignment was JOAQUIN PHOENIX in the upcoming drama "We Own The Night" (which also stars Mark Walberg & Robert Duvall).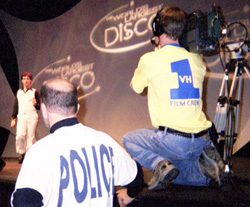 WORLD'S LARGEST DISCO, Buffalo, NY
Brian was hired to perform the Travolta dance solo "You Should Be Dancing" for this annual party convention. In its 10th year, the W.L.D. always draws icons from 1970s pop culture, such as cast members from "The Brady Bunch," "Happy Days," "The Love Boat" and "Dallas." The event is a fund-raiser for disadvantaged children. If interested in attending next year's party, see the following Link: http://www.worldslargestdisco.com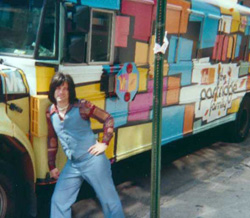 IN SEARCH OF THE PARTRIDGE FAMILY
Though Brian has impersonated David Cassidy before during Singing Telegrams, this VH1 reality show was a chance for greater exposure. There were auditions held in four cities including New York, and Brian made it past the 2nd round. It probably didn't hurt that he was one of the only guys in 1970s clothes! Though Brian wasn't brought to Hollywood to tape the elimination round, he did appear in clips on two related VH1 shows: "In Search Of The Partridge Family" and "When 'The Partridge Family' Ruled The World." He was also the only one pictured on the related VH1 webpage for several weeks.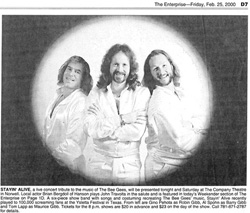 BRIAN SITS IN WITH THE BAND
Brian usually performs to the music of DJs, but occasionally he gets to dance to live music. To that end, Brian has made alliances with two great bands: STAYIN' ALIVE and STEVE MARSHALL BAND.
STAYIN' ALIVE is a complete Bee Gees Tribute. From the songs to the sound, to the look to the style, Stayin' Alive is the real deal. Though based in Florida, they have taken Brian all over the country and have some international gigs pending as well. For more info, see their site: http://stayinaliveshow.com
Closer to home in Manhattan, the STEVE MARSHALL BAND is known as the city's wildest party band. They have a huge repertoire, which includes Classic Rock, Disco, Motown, Blues, and Top 40. Not only has Brian danced as Travolta with the band, but also has sat in as lead singer for some Rolling Stones and Disco hits. Steve Marshall and Co. always have an upcoming gig in the area. For more info, see their site: http://stevemarshallband.com